The Future of Traditions Writing Pictures: Contemporary Art From the Middle East.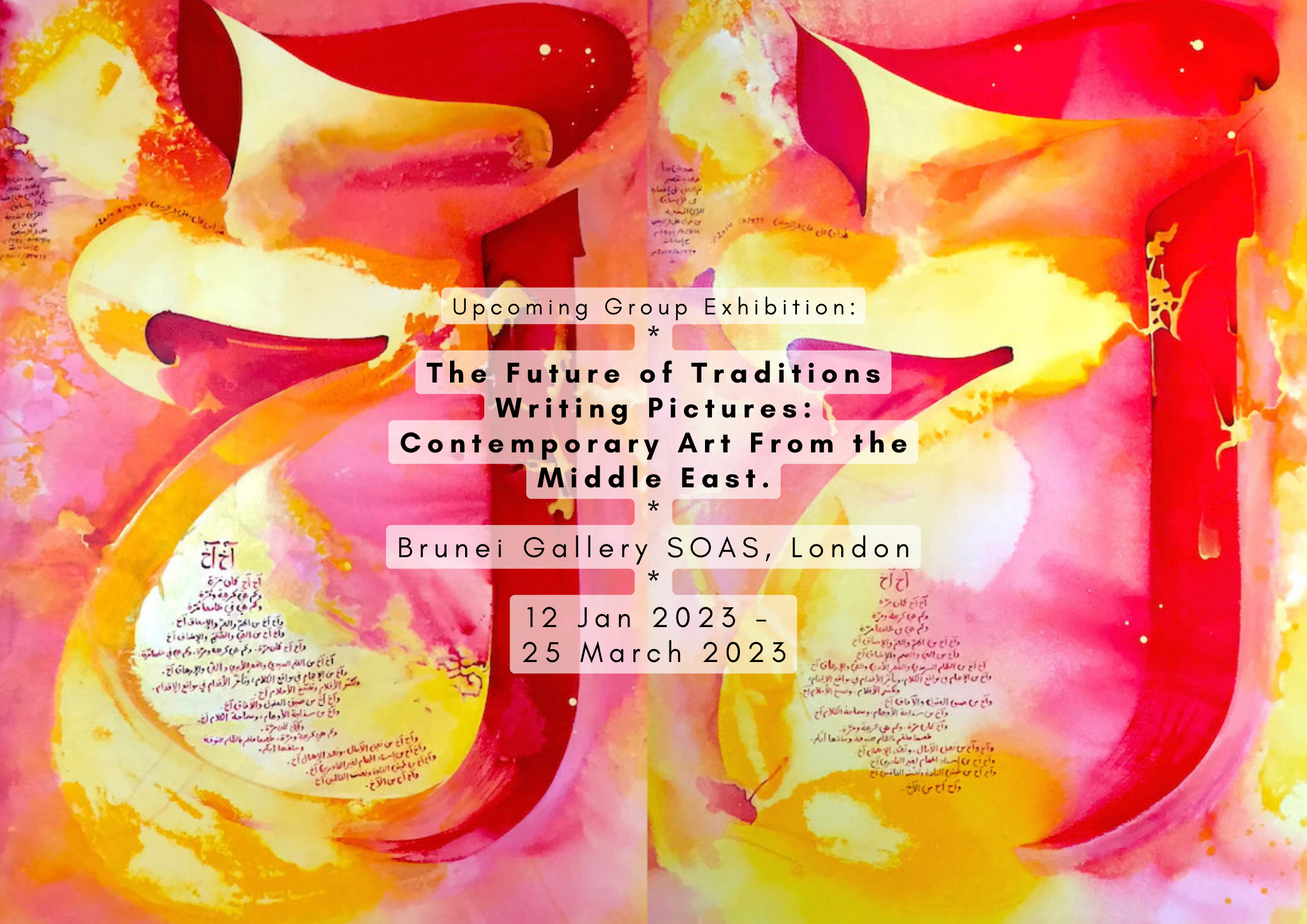 This exhibition is about three generations of artists from Iran and the Arab world, from the early pioneers of a vernacular Lettrism movement in the 1960s till now. These artists, from different backgrounds and possessing diverse styles, take inspiration from their own culture; they use the morphology of letters and phonemes, the rhymes and rhythms of calligraphy, abstracting words and numbers into pictures and thoughts into images.

Inspired by the book Signs of Our Times: From Calligraphy to Calligraffiti (2016), the exhibition includes artists whose concerns, whether conceptual, socio-political or simply aesthetic, have made a distinctive contribution to world art. 

From the thirty-seven artists represented here, only a very few are traditional calligraphers. The exhibition is a glimpse into a variety of contemporary art approaches using Persian and Arabic scripts, while introducing the work of some younger-generation women artists. You can notice several instances of La' (No) as to NO to injustice and double standards; or the word Salam (Peace), made of swords.

Using richly varied vocabularies of art, whether paintings, sculptures, ceramics, or creating 'artist books', they offer a fresh perspective on the creativity that the region has inspired.

For historical references we have incorporated selected manuscripts from the treasures of the Special Collections of the SOAS Library – from 9th-century Kufic parchments to 16th-century Safavid poetry or 18th-century specimens of calligraphic Mashq in a concertina book. These precious items from the past are now in dialogue with the contemporary works in this exhibition.

Participating artists: Etel Adnan – Maliheh Afnan – Farhad Ahrarnia – Siah Armajani - Nasser al Aswadi – Manal al Dowayan – Halim al Karim – Shakir Hassan al Said – Mouneer al Shaarani –– Chant Avedissian – Said Baalbaki – Mahmoud Bakhshi – Jacqueline Béjani – Khaled Ben Slimane – Kamal Boullata – Hanieh Delecroix – Jumana el Husseini – Mohammad Ehsaey – Ali Omar Ermes – Parastou Forouhar – Bita Ghezelayagh – Fathi Hassan – Susan Hefuna – Farnaz Jahanbin – Christine Khondjie – Rachid Koraichi – Nja Mahdaoui – Hassan Massoudy – Joumana Medlej – Farhad Moshiri – Ahmed Moustafa – Enayatollah Nouri – Mahmoud Obaidi – Mehdi Qotbi – Nayla Romanos Iliya – Katayoun Rouhi – Walid Siti – Hossein Valamanesh
Guest Curator: Rose Issa    Co-curator: Bob Annibale
Leave a comment